Last week our studio was part of the Indie Prize Award Showcase at Casual Connect in Tel Aviv.
The game we showcased for the award was Disco Dave, our neon powered, disco-fueled high-score chasing little arcade game.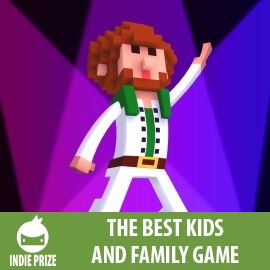 During the event, lots of people got to play the game and jump on the dance floor. We were especially happy for the award nominations our game received in the Best Sound and Best Game Design categories and we were thrilled to receive the:
Besides the official nominees in the competitions we got to play some amazing games present in the showcase and we wanted to share our own personal favorites.
Meantime – a first-person VR experience that takes you on a trip of discovery through gazing.
Meantime Trailer (May, 2016) from Mean Time on Vimeo.
Notes of Obsession – a music box can be the stuff nightmares are made of, and this is the proof.
Super Barista – a take on the tower defense genre infused with enough originality to become a thing on its own. instead of shooting enemies, you have to serve them coffee.
Coloristique – a physics-based first-person puzzle game that achieves so much with very little, given its minimalistic approach.
Congrats to all the studios taking part in the Indie Prize!